Forums » Descrambling »
Quad Tuner Card with PCI-Express VS 4 units of TV tuner stick USB
Added by Klein Johns about 1 year ago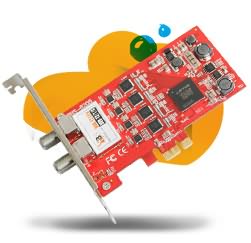 VS
I bought a new computer and I want to leave the old one to become a media center with Kodi and I have some doubts that I would like you to help me with!
Old computer settings:
I5 Third Generation CPU
8GB RAM
Video card XFX RX 570 4G 7.1 GHz
SSD
1) I need to have four DVB C tuners. I am in doubt between the PCIe Card TBS6205 (Chip SI2168) that costs $ 188.99 dollars or buy four Geniatech T230C USB sticks (Chip Si2168) which cost $ 21.15 dollars each. Adding the four USB sticks, this would cost $ 84.60. a saving of $ 104.39.
Since they both use the same chip, does it make any difference if I buy the USB stick instead of the PCIe Card? Why TBS is so expensive?
1.2) This problem bellow is leaving me crazy:
For each tuner, I need a newcamd server to descramble only one specific tuner. That is, if I will have four tuners, how would I do so that each tuner has a specific server to be decrypted? TVHeadEnd can manage this? I know that in OSCAM I can separate each reader into groups with their respective clients. But in this case, in OSCAM I would see only one tvheadend client, which would not allow me to adjust who each client would be with which reader. Any suggestion?
2) I love libreelec version for PC but I think it is not flexible because it does not have apt-get. So I'm in doubt between using OSMC or Ubuntu and then installing kodi. What is better? Any suggestion?
3) I want to buy a s905x3 or s922 device to use with the Geniatech T230C usb stick. Does anyone know if it works well? I read that the crazycat drive recognizes him. But what about image and stability, is it good?
Thanks!
Replies (9)
(1-9/9)